H301-PRIOR-H117
Stage compatibility: PRIOR H117 - comes with Sliding Lid
Magnetic interchangeable inserts allow to use:
35/60 mm Petri
1x3 in. / 1x2 in. chambered slides
6-12-24-48-96 MW plates
Features:
Sliding lid for easy pipetting
Optional lids available for Kohler Illumination, Laser Safety, Injection during imaging
Flexible chamber height thanks to the removable chamber riser and the optional Koheler Lid
Magnets allow easy interchange of chamber inserts
Magnetic locks hold Petri, Slides and MW in correct position inside the chamber
Perfusion holes: 12 channels for 2.5mm O.D. tubings are available in the chamber riser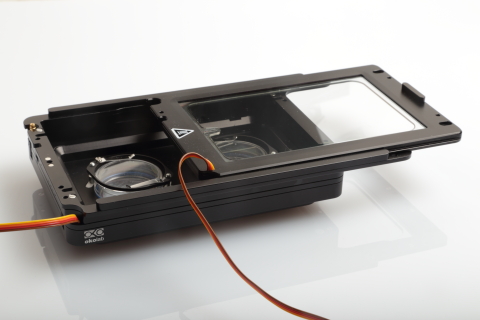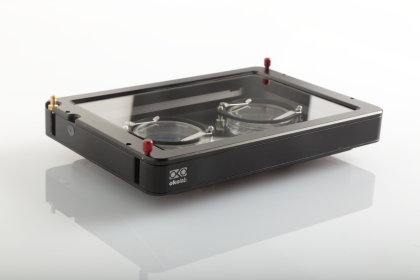 Koehler illumination ?
Remove the chamber riser and use the Koehler Lid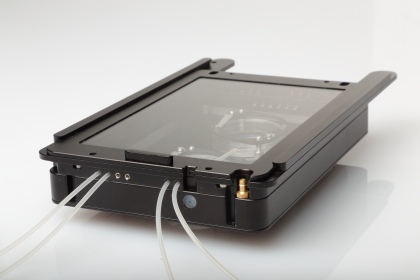 Perfusion ?
Each chamber features up to 12 holes for inlet and outler of perfusion tubings
Different sample holder ?
Change the chamber insert. It is a 5 seconds task with the magnetic sample holders
Keep the sample in the correct position by using the Magnetic Locks
| | | |
| --- | --- | --- |
| 6MW | 6 well plates | |
| 12MW | 12 well plates | |
| 24MW | 24 well plates | |
| 24MW-NUNC | 24-well NUNC/GREINER plates | |
| 48MW | 48-well plates | |
| 96MW | 96-well plates. | |
| MW-OIL | Open frame to image multi well plates with oil immersion objectives | |
| 1x35-M | #1 35mm Petri-dish | |
| 1xGS-M | #1 1x3in. chamberslide | |
| 1xLABTEK-M | #1 Lab-Tek 1x2 in. chambered cover glass | |
| 1xLABTEK-II-M | #1 Lab-Tek II 1x2 in. chambered cover glass | |
| 1x60-M | #1 60mm Petri-dish | |
| 1xT25-M | #1 Nunc and Greiner T25 flask | |
| 2x35-M | #2 35mm Petri-dish | |
| 2xGS-M | #2 1x3in. chamberslides | |
| 2xLABTEK-M | #2 Lab-Tek 1x2 in. chambered cover glass | |
| 2xLABTEK-II-M | #2 Lab-Tek II 1x2 in. chambered cover glass | |
| 2x60-M | #2 60mm Petri-dish | |
| 4x35-M | #4 35mm Petri-dish | |
| GS35-M | #1 1x3in. chamberslide and #2 35mm Petri-dish | |
| LABTEK-35-M | #1 Lab-Tek 1x2 in. chambered cover glass and #2 35mm Petri-dish | |
| LABTEK-II-35-M | #1 Lab-Tek II 1x2 in. chambered cover glass and #2 35mm Petri-dish | |
| LABTEK-60-M | #1 Lab-Tek 1x2 in. chambered cover glass and #1 60mm Petri-dish | |
| LABTEK-II-60-M | #1 Lab-Tek II 1x2 in. chambered cover glass and #1 60mm Petri-dish | |
| GS60-M | #1 1x3in. chamberslide and #1 60mm Petri-dish | |
| 6035-M | #1 60mm Petri-dish and #1 35mm Petri-dish | |
| | | |
| --- | --- | --- |
| H301-KOEHLER LID | Glass lid that reduces the height of the chamber and allows to work under Koehler illumination. Minimum condenser working distance (without chamber riser): 22mm | |
| H301-INJECTION-LID | Glass lid with two small openings (sealed with flexible plastic) to allow injection or permanent access to the specimen Note: compatible only with specimen holder 1x35 | |
| H301-LASER-INTERLOCK-LID | Glass lid with a safety switch that connects to the laser box. The switch turns off the laser, when the lid is lifted Note: compatible only with specimen holder 1x35 | |