Enclosure
The Okolab ICSI-ENCLOSURE maintains a stable and uniform temperature and CO2 - O2 concentrations all around the ICSI workstation.
CO2 is controlled by gently infusing CO2 into the enclosure and by measuring the gas composition with use of NDIR sensor, by sampling gas from the enclosure.
It is the ideal solution for IVF labs and embryologists who wish to perform the ICSI process under true physiological condition in a fully controlled environment.
Ergonomic design allows free access to microinjection joysticks.
Features
Built-in heating elements with HEPA filtering included (NO tubes required)
HePa filtering option on request
Variable CO2 and Oxygen control, both down to 5%
Models available for any microscope and any manipulators on the market
Micro-manipulator joysticks not enclosed
CO2 CONTROLLER
The CO2-CONTROLLER-BL connects to the Temperature Controller via a cable-less connector and is operated through the same touch screen interface OKO-TOUCH.
Features
CO2 sensor accuracy: 0.1%
CO2 range: 0-18%
CO2 sensor: 10 year-life Non Dispersive InfraRed (NDIR) dual wave length detector
CO2 Sensor calibration routine with external meter or calibration gas
Set Point Resolution: 0.1%; Repeatability: better than 0.1%
input: 100% CO2 as input 
Touch Screen Interface - OKO-TOUCH
Programmable CO2 cycles
Compatible with SMART BOX for data logging and remote operation - Optional
Data Logging via OKOLAB Data Log Software - Optional
Alarm Buzzer and External Alarm Connector
SDK available for integration in third party software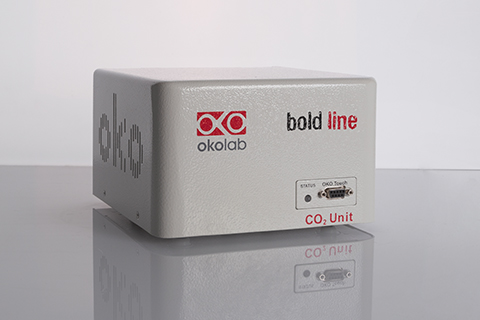 OKO-TOUCH
OKO-TOUCH is an intuitive and user-friendly touch screen interface. It connects to any one of the Bold Line Controllers, detects all equipment in the system and displays all functions supported by the equipment detected.
It allows to:
Turn all Bold Line Controllers on/off
Define set point values
Set flow rates of the Temperature Unit
Set flow rates gas controller
Define gas cycles of gas controller
Select sample or enclosure feedback mode
Display all set points and measured parameters
Run self calibration procedures