LEO
LEO is a hand-held meter for IVF Applications, allowing measurement of CO2-O2 gas composition,temperature, relative humidity, CO2 measurement in range 0-2000 ppm, flowrate, VOC and pH of the IVF high-top and bench-top incubators.
LEO allows organization of the stored data, associating a label to each device connected. You can store up to 40 devices. The stored data can be displayed on LEO's screen, organized by date and device.
Features
Includes CO2 - O2 sensors
User-friendly touch screen interface
Compatible with any incubator on the market
Diffusion or Aspiration gas sampling modes
Sampling tube and de-humidification kit included
Long term logging
USB OTG for data downloading to a USB flash drive
Single point measurement and logging
Two external sensors connections to connect up to two optional sensor modules at the same time
Software Update is avaiable online so that LEO always has the latest software version
Optional IVF Sensor Modules are avaiable
Diffusion sampling mode
The sampling tube should be connected to the Input port with the icon 
The minimum operating flow rate is 30 ml/min.
Aspiration (Pump) sampling mode
Gas is actively pulled in via LEO's internal pump through the dedicated aspiration port with icon 

The pump flow rate can be set in the range 60-260 ml/min.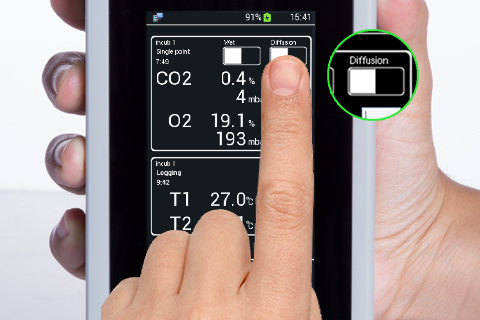 Diffusion / Aspiration mode selection
Operator can select between Diffusion and Aspiration mode by using the dedicated flag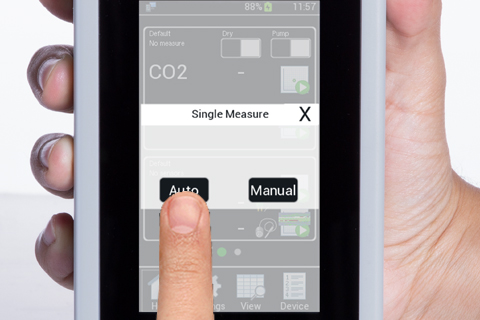 Single point
LEO acquires a single point. 
Measuring CO2 and O2 may take some time. 
You can choose to acquire the data manually, or let LEO acquire it when the measurement is stable.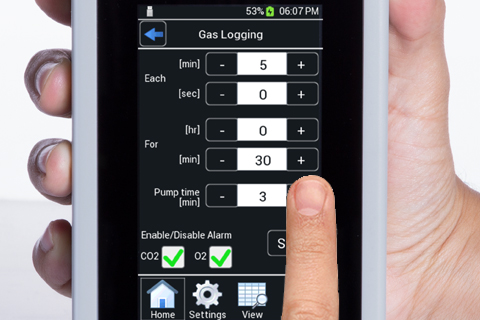 Logging mode measurement
Leo is able to acquire a sequence of data point the desired time interval.
Operator must set the duration of the sequence and the time between each measurement. 
Gas Measurement From Wet Incubator
The Moisture Trap (included with LEO) is used when the measured gas is wet, in order to retain water molecules. LEO allows reading the CO2 and O2 gas composition based on the water content of your incubator by using Wet Mode. The temperature and relative humidity (RH) values of your incubator must be entered.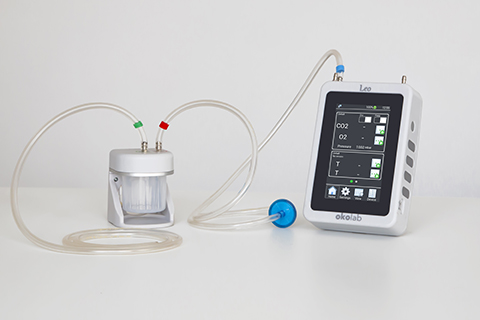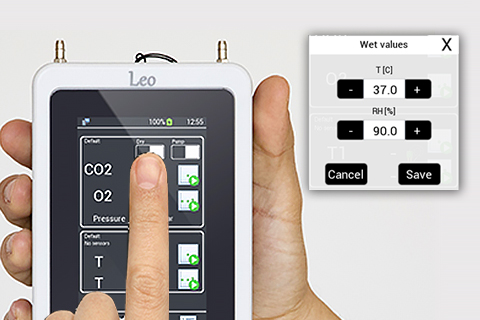 CO2-O2-MODULE
The CO2-O2-MODULE measures, with a high accuracy, the CO2-O2 volume concentration in the unit of %, and CO2-O2 partial pressure in the units of mbar, psi and KPa. It is included in LEO and stores calibration data in its internal memory.
The CO2-O2-MODULE can be easily extracted and sent to Okolab for re-calibration. Moreover the CO2-O2-MODULE can be calibrated with an intuitive user calibration procedure.
CO2 range: 0-20%
CO2 accuracy:±(1% of Full Scale +2% reading)
CO2 Sensor: Non Dispersive InfraRed (NDIR) dual wave length detector with pressure and temperature compensation
O2 range: 0-25%
O2 accuracy:±1% of Full Scale
O2 Sensor: Fluorescence based optical sensor
SOFTWARE UPDATE
LEO can be always updated to the latest version. OKO Updater tool is available online.
LEO DATA IMPORT
Download LEO DATA IMPORT Excel Macro to organize your stored data.