H401-K-FRAME-METAL-GLASS
The Glass side of the Metal Glass T Plate creates a warm and optically transparent surface perfectly flush with the microscope stage. It employes Indium Tin Oxide (ITO) coating to obtain uniform heating throughout the glass surface and a surface sensor to ensure the highest accuracy on temperature reading. The glass is chemically strengthened and protected by a rigid aluminum frame.
The metal side of the Metal Glass T Plate features a trimmed 24 mm diameter observation opening for imaging with oil immersion lenses.
The metal and glass sides have independet temperture sensors for independent temperature control of each side.
The plate is wired and must be connected to either a Bold Line Controller or a Basic Controller.
Features
Flush with stages with k-frame insert (160x110mm), compatible with the following XY stage: Marzhauser (all models), Ludl (all models), ASI (all models, including z-piezo), Prior H107 and H117, Leica (k-frame), Zeiss (k-frame), Olympus (k-frame)
Temperature range: from ambient to 60°C
Accuracy on specimen: ±0.3°C
ITO glass side thickness: 0.5 mm, chemical glass strengthening ensures highest resistance
Easy plate replacement, if necessary
Flat respect to the rest of the XY stage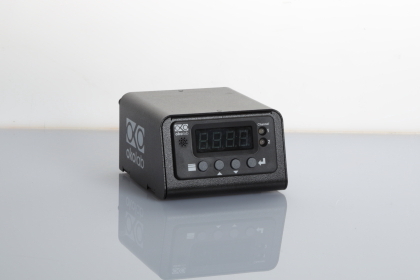 H401-T-DUAL
Push Botton Interface
Not compatible with gas Controllers
Not compatible with gas Humidifiers
Chamber feedback mode
No Room Temperature monitoring
No External Temperature Sensor
Compatible with Objective Heater. Manual calibration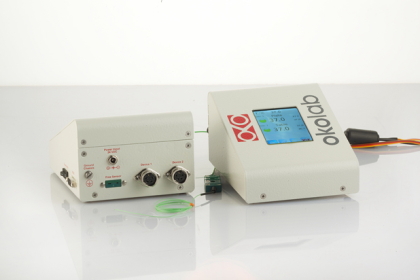 H401-T-DUAL-BL
Two independent control channels
3.2'' touch screen user interface
Data logging via RS232 and DATA LOG software
T range: from 3°C above ambient to 60°C
Self calibration routine
Dimensions: 84x125x164 mm
Temperature accuracy on the specimen: ±0.3°C, if room temperature remains within ± 1°C